We endeavor to breed for the ABC's of your future prospect – Athletic Ability, Brains, and Conformation – the basics of a performance horse that you are looking for. We have your next prospect! NCHA, NRCHA, NRHA, AQHA and Canadian Supreme champions and Hall Of Fame horses all over our pedigrees. Dams are Own daughters of Smart Little Lena, Yellow Roan of Texas and Smart Lil Ricochet.

Special consideration will be given to show or ranch home. Delivery and package deals can be discussed. For more information on these nice prospects or others that may be available, please Contact Us.  Our older prospects can be seen on the Yearlings and Older page.  Some Mares may be for sale as well. All Sales are + GST.

Also please see our Purchasing/Transportation Information page for more information about buying and hauling your foal.
Our 2021 Foals - Palomino, Chestnut, Gray!  **** All  SOLD*** Thank you to the buyers!
These 2021 Foals have been consigned to the Perlich Bros Auction in Lethbridge on Oct 2, 2021. 
Come out and check them out on Saturday- we look forward to meeting you. There will be online bidding so check the online catalog for that option. 
Haidas Smoothie x RR Texas Becky**SOLD**
AQHA  - Palomino Filly- May 13, 2021
---
Markings:
Blaze, no other markings yet!

This cross has produced some outstanding foals. Sired by Son of CD Olena and by Daughter of Yellow Roan of Texas. 
She is flashy! Nice big hind quarters, gorgeous baby doll head, kind eye, muscled and colour to boot! She is bred to go most any direction you want to take her. She should mature to 14.1-14.3. Sire and dam have super dispositions and pass that onto their foals.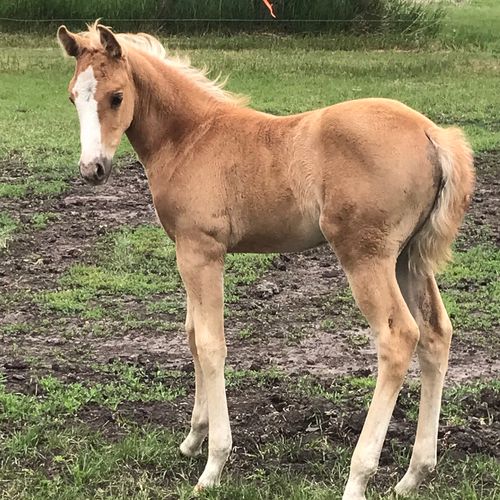 Consigned to Perlich Auction Lethbridge Oct 2, 2021
Haidas Smoothie X RR Texas Becky
Haidas Smoothie X Rosies Lil Ricochet **SOLD**